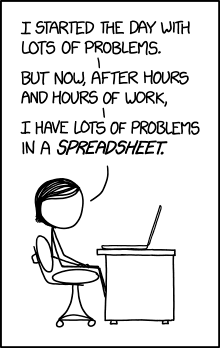 (Not actually me, but it could be.)
Licensed under CC BY-NC 2.5.
Cycling through another round of biweekly database updates, I note that we haven't given some milestones their due recently, either on the blog or on Twitter. So without further ado, here are a couple of handfuls of updates on the vital statistics of several announcers, teams and networks. They're presented in chronological order.
(Standard disclaimer: Announcer totals contained herein come from the lists maintained at
The 506 Forums
(free registration required to view). As always, you can see the top 16 in each category on
our TV databases page
.)
October 4 - When the puck drops on the NHL's centennial season, Mike Emrick becomes the first American announcer to handle 900 play-by-play broadcasts for that league on national television. The broadcast pulled him within 71 games of former partner Bill Clement for the most in (American) NHL history.
As of this post (December 17), you could combine the totals of the next five active play-by-play announcers and you'd still be short of Emrick's 910 games; that math also counts Sam Rosen as "active" based strictly on their local work, as his last national gig outside of simulcasts was on the network then called VS. in 2011.
October 17 - The NBA's season opener gets right to work rewriting the record books, as Kevin Harlan's 671st national telecasts pushes him past the number we have confirmed for Doug Collins. By that measure, Harlan is fifth all-time; in truth, he's probably not there quite yet.
(Collins worked for TNT in the early 1990s, which is one of the eras where the listings I'm working off of are not quite complete. Based on the confirmations posted to The506 Forums and the interpolations of the late John Moynihan, his final total is somewhere in the 690s, which puts Harlan on track to get there around the All-Star break.)
October 21 - Scott Oake becomes the seventh documented announcer to call 1,000 NHL games in Canada, and the first to do so as a host and/or rinkside reporter, with the Wild-Flames matchup from Calgary.
The figures for Ron MacLean merit, at the least, an honorable mention here because of the way records were kept as the role of the Hockey Night In Canada host evolved.
From 1957 until the mid-1990s, each game had its own host that handled player interviews and between-periods segments; this person is credited on each game broadcast. In about 1996, CBC shifted to having a singular central studio for all of its games: even though the studio is in Toronto, which often hosts one of the games, that led to the introduction of a second person to do interviews, which is the one credited for those games.
After racking up more than 500 games in the older role, MacLean shifted into the studio in the mid-90s. If you count his time as host, often on the order of 50 or 60 games a year, he'd be well beyond Oake and into Bob Cole territory (see Dec. 5 below).
In each of our other databases, studio hosts aren't recorded; however, the three-act structure of a hockey game means that the intermission host gets more face time than the halftime host in basketball or football -- and that's especially true if a game goes beyond regulation, which can happen ad infinitum in the league's most visible games. So I'm not sure how to weigh those factors against one another.
(At a far more practical level, I don't have record of who the studio hosts were on a night-by-night basis beginning in 1996-97, so I can't properly credit them even if that route makes sense.)
November 1 - Mike Breen's call of the Rockets-Knicks game makes him the second person in NBA history to do play-by-play of 750 nationally-televised games, trailing only Marv Albert.
Breen's average is in the neighborhood of 50 games a year, which would put him on pace to catch Albert's current mark (1,014 games) in the 2022-23 season. Of course, that's subject to the small matter that Albert is still an active NBA broadcaster doing about 40 games a year, but that in turn is subject to the fact that Albert turned 76½ last Tuesday. (Happy half-birthday, Marv.) Breen is 56.
Aside from Breen and Albert, Hubie Brown is the only person confirmed to have called 750 NBA games on national TV. Brown has 964 games under his belt. Craig Sager probably joins them: I have 746 sideline appearances for the man they called "America's sideline reporter," but that doesn't include courtside data for much of the 2006-07 or 2007-08 seasons, which means his total is more likely in the 800 range.
December 5 - The Rangers-Penguins affair from Pittsburgh marked the 800th time that the Broadway Blueshirts showed up on American national television. Only the Red Wings (870) and Flyers (829) have more such games.
(The Canadiens got their 500th American appearance on December 16, but I'm not giving that a full entry here because Canadian NHL telecasts have their own listings.)
December 8 - A Celtics-Spurs telecast from San Antonio is the 1,500th NBA game on record for ESPN. That figure includes 102 games from the cable network's first NBA contract (1982-84), but not the 60 games that have gotten shunted to other ESPN networks since 2002.
(For purposes of comparison, TNT's 2,500th game was Game 5 of the 2017 Eastern Conference Final; ABC's Christmas slate will start with game number 692 overall for them and game number 489 under the modern set of contracts.)
December 9 - Bob Cole, Canada's dean of hockey broadcasters, works his 1,700th NHL telecast as the Jets face the Lightning in Tampa. No other announcer in our five databases can boast even three-fourths of Cole's total, and the one that comes closest—Dick Irvin—retired in 1999.
December 11 - Lisa Salters
becomes the 10th person to handle the sidelines for 100 NFL games when she works the Patriots-Dolphins Monday Night game for ESPN. (She also makes a lot of us wish we were in Miami in December, but that's beside the point.)
December 17 - The Vancouver Canucks become the first NHL expansion team to reach the national airwaves 1,000 times in Canada. They would likely prefer not to discuss the result of that game.
...and with that, we've caught back up.
In addition to the Kevin Harlan eclipse of Doug Collins mentioned earlier, the next several weeks figure to bring milestones for Ian Eagle, Dan Fouts, Greg Gumbel, Joe Buck and Troy Aikman. Reggie Miller, Mark Jackson, Hubie Brown; Mike Emrick, Pierre McGuire and Ed Olczyk; and Jim Hughson, Oake, Greg Millen, John Garrett and Paul Romanuk, should be on tap in the new year as well.